21
Dec
CLAUDE AKINS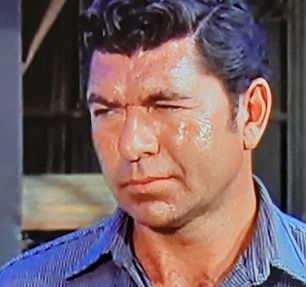 CLAUDE AKINS était un acteur au visage buriné et à la  voix tonitruante, acteur de seconds rôles né Claude Marion Akins le 25 mai 1926, Nelson, Géorgie, USA et décédé le 27 Janvier 1994 Altadena, Californie(cancer). Yeux bruns, cheveux noirs. 1,88 m. Son visage est bien connu car il est  apparu dans près de 100 films et 180 épisodes TV  dans une carrière de plus de 40 ans.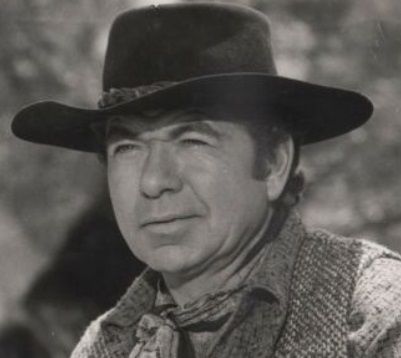 Il était fils d'un officier de police, mère au foyer , de sang  Cherokee .
Etudes à l'Université Northwestern puis armée  avec la US Army Signal Corps lors de la  Seconde Guerre mondiale en Birmanie et aux Philippines.
À son retour, a été vendeur mais comme il aime  l'art et le théâtre  il se fait engager à Broadway  pour le théâtre avant d'être repéré par un découvreur de talents Britannique  pour des rôles de durs au cinéma et sa  première apparition devant la caméra en 1953 sera dans Tant qu'il y aura des hommes (1953) avec un autre dur, Ernest Borgnine.
Il a rapidement  décroché des rôles dans des séries de télévision comme "Badge 714" (1951), "Mon amie Flicka" (1955), "Gunsmoke" (1955) et "Zane Grey Theater" (1956). Et le cinéma fera souvent appel à lui notamment pour des westerns . On  l'a vu ainsi dans les célèbres  Rio Bravo (1959), Les maraudeurs attaquent (1962) et  A bout portant (1964).
Il n'a pas été qu'un méchant car il  a joué de nombreux rôles nécessitant  compassion et humour. Il a été flic maladroit, doux samaritain,  fou, marin, soldat, bricoleur , il aura  été auprès de Randolph Scott dans  "Comanche Station"de Budd Boetticher, dix épisodes de Gunsmoke, cinq épisodes de Laredo, et sept épisodes de Rawhide .
Au début des années 1970 Akins a  tourné dans plusieurs séries de science fiction et était méconnaissable sous son  maquillage comme général Aldo dans La Bataille De La Planète des singes (1973).
Hors de l'écran, il était une personne très sociable, sympathique et convivial. Claude  était un bon golfeur et a participé par des tournois  à divers organismes de bienfaisance jusqu'à sa mort
Akins a été marié pendant plus de 40 ans à Theresa "Pie" Fairfield, et a eu trois enfants.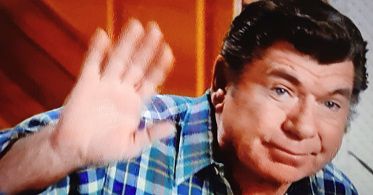 BUDD BOETTICHER… L'EXPEDITION DU FORT KING SE­MINOLE…1952
FRED ZINNEMANN …TANT QU'IL Y AURA DES HOMMES …FROM HERE TO ETERNITY … 1953
ROY ROWLAND… TEMOIN DE CE MEURTRE… WIT­NESS TO MURDER … 1954
THOMAS CARR …BITTER CREEK …1954
HUGO FREGONESE… PAR LE FEU ET PAR L'EPEE… THE RAID … 1954
ED­WARD DMYTRYK …OURAGAN SUR LE CAINE… THE CAINE MUTINY … 1954
ARNOLD LAVEN …L'ASSASSIN PARMI EUX… DOWN THREE DARK STREETS … 1954
EDMOND O'BRIEN ET HOWARD W. KOCH …LE BOUCLIER DU CRIME… SHIELD FOR MURDER … 1954
JOSEPH M. NEWMAN DANS LES BAS-FONDS DE CHICAGO… THE HUMAN JUNGLE … 1954
DON WEIS …LES AVENTURES DE HADJI …THE ADVEN­TURES OF HAJJI BABA … 1954
JOHN FARROW …LE RENARD DES OCEANS… THE SEA … 1955
RICHARD WILSON …L'HOMME AU FUSIL …MAN WITH THE GUN … 1955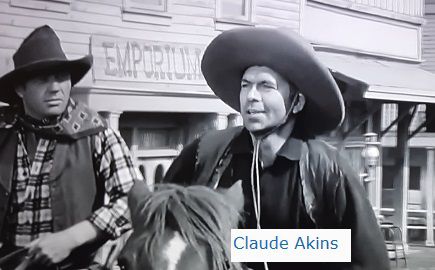 LEWIS SEILER …L'ENFER DU PACIFIQUE …BATTLE STATION … 1955
GEORGE SEATON… UN MA­GNIFIQUE SALAUD …THE PROUD AND PROFANE … 1956
DON MCGUIRE …JOHNNY CONCHO …1956
STUART HEISLER… COLLINES BRÛLANTES …THE BURNING HILLS … 1956
JERRY HOPPER …OPÉ­RATION REQUINS …THE SHARKFIGHTERS …1956
DAVID FRIEDKIN …L'OTAGE DU GANG …HOT SUMMER NIGHT … 1956
VIRGIL VOGEL… THE KETTLES ON OLD MACDONALD'S FARM …1957
HENRY LEVIN… JICOP LE PROSCRIT …THE LO­NELY MAN … 1957
RICHARD BARTLETT… JOE DAKOTA …1957
STANLEY KRAMER… LA CHAINE… THE DEFIANT ONES … 1958
NORMAN TAUROG …CUISTOTS EN VIREE… ONIONHEAD … 1958
HOWARD HAWKS …RIO BRAVO …1958
NORMAN TAUROG …TIENS BON LA BARRE, MATELOT …DON'T GIVE UP THE SHIP … 1959
OTTO PREMINGER… PORGY AND BESS .. . 1959
GORDON DOUGLAS… LE GEANT DU GRAND NORD …YELLOWSTONE KELLY … 1959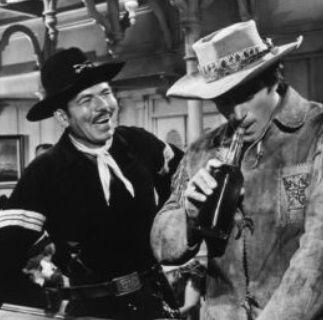 DON SIEGEL… LE VAGABOND DES BOIS MAUDITS …HOUND-DOG MAN … 1959
BUDD BOETTICHER …COMANCHE STATION … 1959
JACQUES TOURNEUR …FRONTIERE SAUVAGE …FRON­TIER RANGERS … 1959
STANLEY KRAMER… PRO­CES DE SINGE… INHERIT THE WIND … 1960
GORDON DOUGLAS …CLAUDELLE INGIISH …1961
SAMUEL FULLER …LES MARAUDEURS ATTAQUENT… MERRILL'S MARAUDERS … 1962
LESLIE H. MARTINSON… BLACK GOLD …1963
DONALD SIEGEL… A BOUT PORTANT …THE KILLERS . 1964
RAOUL WALSH …LA CHARGE DE LA 8E BRIGADE …A DISTANT TRUMPET … 1964
EARL BELLAMY…SANS FOI NI LOI …INCIDENT AT PHANTOM HILL … 1965
BERNARD MCEVEETY …MAR­QUE AU FER ROUGE …RIDE BEYOND VENGEANCE … 1966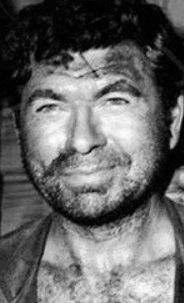 BURT KENNEDY …LE RETOUR DES SEPT… RETURN OF THE SEVEN … 1966
CHRISTIAN NYBY ….CHEF DE PATROUILLE ….FIRST TO FIGHT … 1966
WILLIAM GRAHAM …L'OR DES PISTOLEROS… WATERHOLE 3 … 1967
ANDREW V. MCLAGLEN… LA BRIGADE DU DIABLE …THE DEVIL'S BRIGADE …1968
HY AVERBACK… LE PLUS GRAND DES HOLD-UP… THE GREAT BANK ROBBERY …1969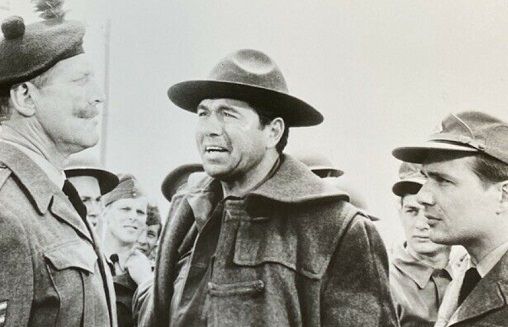 CAROL REED… L'INDIEN …FLAP … 1970
GIORGIO GENTILE ET VIC MORROW …UN NOMME SLEDGE …SLEDGE … 1971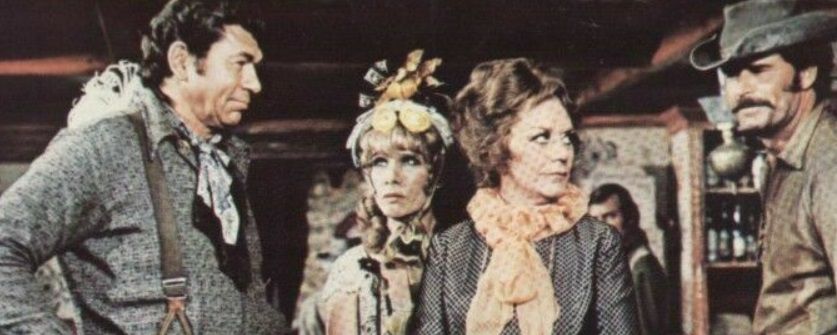 JOHN GUILLERMIN …ALERTE A LA BOMBE …SKY­JACKED … 1972
TAY GARNETT ET CHUCK D. KEEN …TIMBER TRAMPS …1973
JACK LEE THOMPSON…LA BATAILLE DE LA PLANETE DES SINGES… BATTLE FOR THE PLANET OF THE …1973,
OLIVER HELLMAN …TENTACULES … TEN-TACOLI … 1976
STUART HAGMAN …TARANTULA …TARANTULAS : THE DEADLY CARGO …1977
RAY AUSTIN ET ROBERT CLOUSE… MASTER NINJA…1984
JACK ROONEY …PUSHED TOO FAR …1986
BOB DAHLIN ….MONSTER IN THE CLOSET …1986
DAVID KEITH …THE FARM …1987
BILL CORCORAN …INCIDENT AT VICTORIA FALLS ...1991
JOHN MELLENCAMP …FALLING FROM GRACE …1991
T.C. CHRISTENSEN …SEA­SONS OF THE HEART …1993
T.V
1954 :DRAGNET
1955 : TV READER'S DIGEST  (FRANCE'S GREA­TEST DETECTIVE), GUNSMOKE  (POLICE DES PLAINES)
1956 : FRONTIER  (FRONTIÈRES), AL­FRED HITCHCOCK PRESENTS  (ALFRED HITCHCOCK PRÉSENTE), THE ADVENTURES OF SUPERMAN  (SUPERMAN), THE ADVENTURES OF JIM BOWIE , I LOVE LUCY  (L'EXTRAVAGANTE LUCIE), ZANE GREY THEATER  (COURAGE IS A GUN)
1957 : HAVE GUN WILL TRAVEL , WAGON TRAIN  (LA GRANDE CARAVANE), THE RESTLESS GUN , ZANE GREY THEATER  (MAN UNFORGIVING),
1958 : THE ADVENTURES OF MCGRAW , SCHILTZ PLAYHOUSE OF STARS : WAY OF THE WEST ,  PERRY MASON ,  MAVERICK, RICHARD DIAMOND, PRIVATE DE­TECTIVE . CHEYENNE . BRONCO , YANCY DERRINGER , THE RIFLEMAN  (L'HOMME À LA CA­RABINE),
1959 : SUNSET STRIP , BAT MASTERSON , RIVERBOAT ,
1960 : RAWHIDE , LARAMIE ,  BONANZA , THE UNTOUCHA­BLES  (LES INCORRUPTIBLES), LAW OF THE PLAINS­MAN , THE TWILIGHT ZONE  (LA QUATRIÈME DI­MENSION), ADVENTURES IN PARADISE  (AVEN­TURES DANS LES ILES), OVERLAND TRAIL , THE ALASKANS , WANTED : DEAD OR ALIVE  (AU NOM DE LA LOI), DEATH VALLEY DAYS  (LES AVENTURIERS DU FAR WEST), THE REBEL , THE TALL MAN . ZANE GREY THEATRE  (RANSOM), KLONDIKE , SURFSIDE  .
1961 : THE ROA­RING TWENTIES , ZANE GREY THEATRE  (JERI­CHO), THE DEPUTY , GUNFIGHT IN BLACK HORSE CANYON  (DE R.G. SPRINGSTEEN),
1962 : BUS STOP , FRONTIER CIRCUS , HAWAIIAN EYE , EMPIRE ,  THE WIDE COUNTRY  (LA ROUTE DES RODÉOS), THE VIRGINIAN  (LE VIRGINIEN),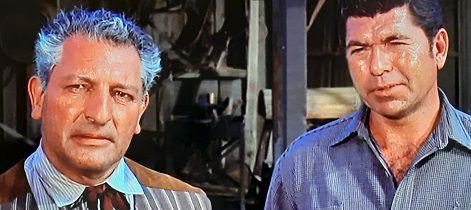 1963 : THE DAKOTAS , THE GREAT ADVEN­TURE ,
1964 : MR. NOVAK , KRAFT SUSPENSE THEATRE , DESTRY , THE FUGITIVE  (LE FU­GITIF),
1965 : SLATTERY'S PEOPLE : WHEN DO WE HANG THE GOOD SAMARITAN? , BRANDED ,  DANIEL BOONE . A MAN CALLED SHENAN­DOAH , THE FBI  (SUR LA PISTE DU CRIME). THE BIG VALLEY  (LA GRANDE VALLÉE), THE MAN FROM U.N.C.L.E.  (DES AGENTS TRÈS SPÉ­CIAUX), LAREDO ,
1966 : THE LEGEND OF JESSE JAMES  (JESSE JAMES). COMBAT! . THE MONROES  (LES MONROE).
1967 : . THE GUNS OF WILL SONNETT , HONDO ,
1968 : GARRISSON'S GORILLAS , THE OUTSIDER  (LA COURSE À LA VÉRITÉ),
1971 : LOCK, STOCK AND BARREL  (UNE MAISON DANS L'OUEST, DE JERRY THORPE), RIVER OF MYSTERY  (DE PAUL STAN­LEY), 1972 : MCMILLAN AND WIFE  (MCMILLAN), LONGSTREET , LOVE, AMERICAN STYLE , THE NIGHT STALKER  (DE JOHN LLEWELLYN MOXEY),
1973 : HEC RAMSEY , MISSION : IMPOS­SIBLE , BARNABY JONES , THE ROOKIES . " MEDICAL CENTER  (MEDECINS D'AUJOURD'HUI). CANNON , POLICE STORY , MARCUS WELBY, M.D.  (DOCTEUR MARCUS WELBY), THE NORLISS TAPES  (LA VOIX DU VAMPIRE, DE DAN CURTIS),
1974 : THE MIKE DOUGLAS SHOW , . MC-CLOUD  (UN SHÉRIF À NEW YORK), MANNIX , THE DEATH SQUAD  (POLICE PARALLÈLE, DE HARRY FALK), IN TANDEM  (DE BERNARD L. KOWALSKI), MOVIN' ON ( L ' aventure est au bout de la route ) ,
1975 : MEDICAL STORY  (DE GARY NELSON), ERIC  (DE JAMES GOLD-STONE),
1976 : KISS ME, KILL ME  (DE MICHAEL O'HERLIHY),
1977 : THE OREGON TRAIL  (LA PISTE DE I'OREGON), YESTERDAY'S CHILD  (DE COREY ALLEN. BOB ROSENBAUM ET JERRY THORPE), THE RHINEMANN EXCHANGE  (L'ÉCHANGE, DE BURT KENNEDY). KILLER ON BOARD (LE NAVIRE EN DÉ­TRESSE, DE PHILIP LEACOCK), POLICE STORY : THE BROKEN BADGE  (DE LEE H. KATZIN), NASHVIL­LE 99 ,
1978 : LITTLE MO  (DE DANIEL HALLER),  BJ AND THE BEAR  (DE BRUCE BILSON),
1979 : MURDER IN MUSIC CITY  (DE LEO PENN). EBONY, IVORY AND JADE  (DE JOHN LLEWELLYN MOXEY), THE CONCRETE COW-BOYS  (DE BURT KENNEDY), THE MISADVENTURES OF SHERIFF LOBO ,
1981 : DARKROOM , ALL-STAR SALUTE TO MOTHER'S DAY , THE WAY THEY WERE ,
1983 : DESPERATE INTRUDER  (DE NICK HAVINGA).
1984 : THE MASTER  (L'HOMME AU KATANA), MURDER, SHE WROTE  (ARABESQUE), THE LOVE BOAT  (LA CROISIÈRE S'AMUSE). LEG­MEN  (DE COREY ALLEN, JEFFREY HAYDEN ET RO­GER YOUNG), CELEBRITY  (DE PAUL WENDKOS), THE BARON AND THE KID  (DE GARY NELSON),
1985 : HOTEL  (HÔTEL),
1986 : CRAY LIKE A FOX  (HARRY FOX LE VIEUX RENARD), DREAM WEST  (LE RÊVE CALIFORNIEN, DE DICK LOWRY), MANHUNT FOR CLAUDE DALLAS  (A LA POURSUITE DE CLAUDE DALLAS, DE JERRY LONDON),
1987 : MICKEY SPILLANE'S MIKE HAMMER  (MIKE HAMMER),.. IF IT'S TUESDAY, IT STILL MUST BE BEL­GIUM  (DE BOB SWEENEY), 1989 : MATLOCK ,  HUNTER  (RICK HUNTER, INSPECTEUR CHOC), " MOTHERS, DAUGHTERS AND LOVERS  (DE MAT­THEW ROBBINS),
1991 : IN THE HEAT OF THE NIGHT  (DANS LA CHALEUR DE LA NUIT), THE GAM­BLER RETURNS : THE LUCK OF THE DRAW  (DE DICK LOWRY),
1992 : EERIE INDIANA  (MARSHALL ET SIMON), GRASS ROOTS  (LE TRIANGLE NOIR, DE JERRY LONDON),
1994 : THE SEARCH  (DE CO­REY ALLEN).